Jane Ann Futhey and Thomas J. Myers
Jane Ann Futhey Myers
Born: April 4, 1845 in Illinois. In 1850, her family was living in Mechanic Township, Hancock County, Illinois.
Parents: Abraham and Louisa Futhey
Died: March 15, 1909 -- buried in I.O.O.F. Cemetery in Godley, TX
At time of death, Jane Ann and Thomas J. Myers had "broken up housekeeping" and she was living with her daughter Myrtle
Cleburne Daily Enterprise, Tuesday, March 16, 1909 bearing the headline "Mrs. Tom Myers Dead," with subheading of "From Result of Runaway Accident, Aged Lady Dies at Godley--The Funeral Tomorrow." The text of the report is as follows: "Special to the Daily Enterprise. Godley, TX, March 16. Yesterday afternoon while Mrs. Tom Myers, Mrs. Claude Vinther (Myrtle Myers), and little Miss Vera Wheeler were out driving in a surrey, the horse became frightened, running away and throwing the occupants out of the vehicle. Mrs. Myers received injuries from which she died this morning at 1 o'clock. Mrs. Vinther was painfully injured but is doing well today and no serious results are expected. The little girl escaped without injury. Mrs. Myers, the deceased, was about 64 years of age. She was the mother of Mrs. J. W. Lowder (Lillie) and Mrs. Vinther and was on a visit to them at the time of her death. Her husband will arrive from Hamilton county tonight and the funeral will take place at Godley tomorrow at 11 o'clock am. The runaway occurred by the horse first getting frightened at an automobile and in his jumping from that the whip in the dash board hit him and he then became unmanageable and backed into a ravine, overturning the surrey with the above results."
Thomas Jefferson Myers
Born: May 8, 1840 in Patoka, Gibson County, Illinois
Parents: Samuel Houston and Patsy Wallace Myers
Died: July 7, 1928 -- buried in Eastview Cemetery, Hamilton County, TX
Civil War Service: Company F, 20th Texas Cavalry, Bass' Regiment, CSA

Enlisted: March 10, 1862
Captured: Honey Springs, Creek Nation, Arkansas, July 17, 1863
Prisoner-of-War Camps: 1) Fort Blunt, Indian Territory, Cherokee Nation (August 1863), 2) Gratiot Street Military Prison, St. Loius, MO (October, 1863), and 3) Camp Morton, Indianapolis, IN. (November, 1863) Initially refused to take oath of allegiance. Finally took oath on May 22, 1865 and was released from Camp Morton to return to Texas.
From Encyclopedia of Historic Forts -- The Military, Pioneer, & Trading Posts of the United States by Robert B. Roberts
Camp Morton is probably the largest and best known of Indiana's Civil War installations. It occupied 336 A formerly known as Henderson's Grove. It previously was a fairground. It was established in April, 1861, and was converted into a prisoner-of-war camp in February, 1862. It closed in June, 1865. 15,000 Confederate soldiers were imprisoned there during the Civil War.
From Polignac's Texas Brigade by Alwyn Barr
"The retreat continued into northwestern Arkansas where Cooper and the Indian units were separated from the Texans and ordered into the Indian Territory on October 15, 1862. In the meantime, there had been added to the brigade the 20th Texas Calvary, commanded by Colonel Thomas Coke Bass, a prewar lawyer and ardent seccessionist who had come to Texas from Mississippi. Suddenly at Holcombe, Arkansas, on October 16, Bass became brigade commander by seniority despite his lack of combat experience. The retreat and change in command had helped disorganize the brigade, which already had been hard hit by sickness and probably by war-weariness among many of those who had origianlly opposed seccession. Because Bass obviously was not the man to restore order, Hindman sent Colonel William R. Bradfute, one of his staff officers, to take command of the brigade and resist the Federal advance. Bradfute, a Mexican War veteran from Tennessee, was known to some of the Texans through his service on the Texas frontier as a captain in the 2nd US Calvary during the 1850's. The brigade became part of Brigadier General James S. Rains' division, but confusion increased as the retreat continued. Rains resigned after having been drunk on duty, while Stevens and Bass were arrested for retreating without cause. Hindman then place the Texans in Brigadier General John S. Marmaduke's division, but the change proved to be no cure for their lagging morale and discipline. Bradfute soon fell ill and relinquished command of the brigade without reporting the fact to Hindman. After another brief moment of confusion, Colonel Jesse L. Craven was made temporary brigade commander and the men's overall behavior improved noticeably.
The improvement came too late to save the Texans from a fate feared by all calvarymen. Hindman's patience had worn out. He felt the Texas regiments were 'worthless as cavalry, and ...ordered them dismounted and their ponies sent to Texas' on November 1, 1862. In addition, he requested permission to consolidate the four regiments into two because straggling and sickness had severely limited their size, but the petition apparently went unheeded. The Texans trudged south with aching feet and hurt pride, which produced long standing resentment toward Hindman and further demoralized the ex-cavalrymen."

Accused of murder of his stepmother, Mary Myers Hester (Feb. 21,1877):

7-13-1877 To jail, no bail
6-27-1878 Trial, found guilty
6-28-1878 Sentenced to be hung
7-26-1879 Sentenced to life in prison - hard labor at State Penitentiary
11-25-1880 Found not guilty and released.
Family Portrait, circa 1892: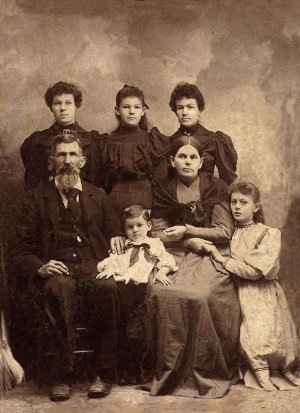 Back row, L to R: Dora, Allie, Lillie
Front row, L to R: Tom, Johnny Whiddon, Jane, Myrtle
Descendents of Thomas Jefferson Myers
Patsy Louis Myers (b October 13, 1860 and d March 2, 1921)
married William Ray Jacob Newton on September 20, 1974
William H. Newton (1877 - 19220
Clarence C.C. Newton (1879 - 1944)
Jervy J.J. Newton (1881 - 1962)
Nira N.N. Newton (1883 - 1964)
Zora Z.Z. Newton (1886 - ?)
Esto E.E. Newton (1889 - 1957)
Ozro O.O. Newton (1891 - 1961)
Isaac I.I. Newton (1895 - 1975)
Louisa E. Newton (1897 - 1951)
Kelton K.K. Newton (1902 - 1989)
Tom Locklear's mother describes their house as having two stories with a spinning wheel upstairs. She remembers the Newtons as being fond of singing.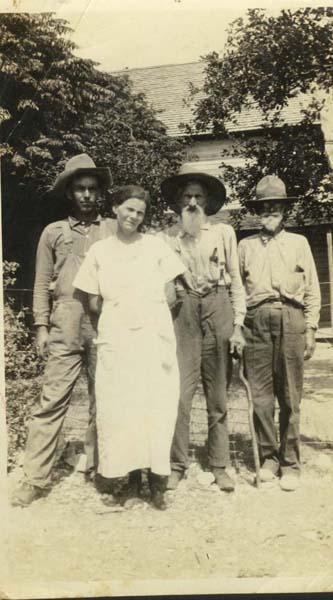 From L to R, Sherman Johnson, Allie Myers Johnson, Tom Myers, and Bill Newton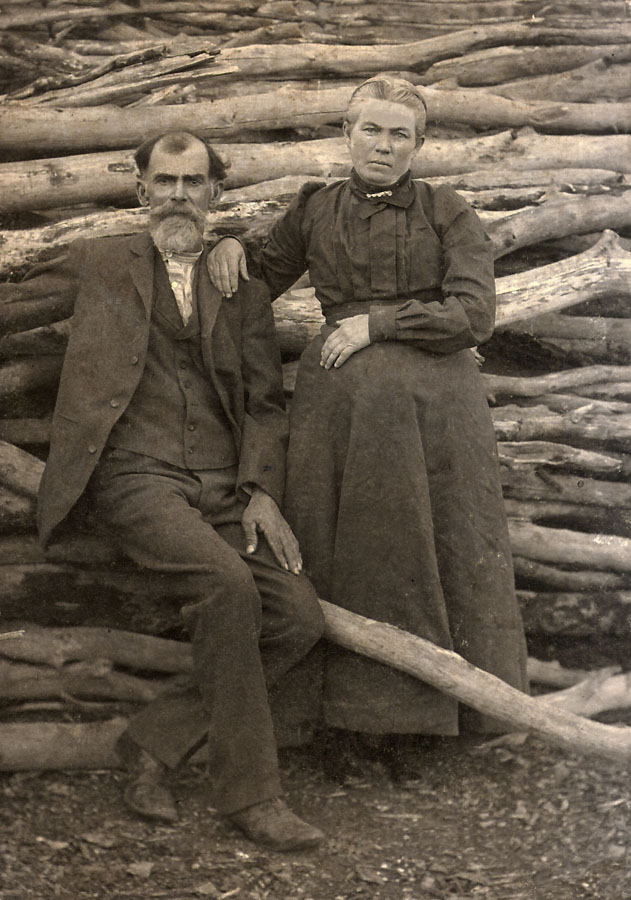 Bill and Patsy Newton.