Jane Ann Futhey Myers

Born:

April 4, 1845 in Illinois
In 1850, her family was living in Mechanic Township, Hancock County, Illinois.
Parents: Abraham and Louisa Futhey
Died: March 15, 1909 -- buried in I.O.O.F. Cemetery in Godley, TX
At time of death, Jane Ann and Thomas J. Myers had "broken up housekeeping" and she was living with her daughter Myrtle
Cleburne Daily Enterprise, Tuesday, March 16, 1909 bearing the headline "Mrs. Tom Myers Dead," with subheading of "From Result of Runaway Accident, Aged Lady Dies at Godley--The Funeral Tomorrow." The text of the report is as follows: "Special to the Daily Enterprise. Godley, TX, March 16. Yesterday afternoon while Mrs. Tom Myers, Mrs. Claude Vinther (Myrtle Myers), and little Miss Vera Wheeler were out driving in a surrey, the horse became frightened, running away and throwing the occupants out of the vehicle. Mrs. Myers received injuries from which she died this morning at 1 o'clock. Mrs. Vinther was painfully injured but is doing well today and no serious results are expected. The little girl escaped without injury. Mrs. Myers, the deceased, was about 64 years of age. She was the mother of Mrs. J. W. Lowder (Lillie) and Mrs. Vinther and was on a visit to them at the time of her death. Her husband will arrive from Hamilton county tonight and the funeral will take place at Godley tomorrow at 11 o'clock am. The runaway occurred by the horse first getting frightened at an automobile and in his jumping from that the whip in the dash board hit him and he then became unmanageable and backed into a ravine, overturning the surrey with the above results."
Thomas Jefferson Myers
Born: May 8, 1840 in Patoka, Gibson County, Illinois
Parents: Samuel Houston and Patsy Wallace Myers
Died: July 7, 1928 -- buried in Eastview Cemetery, Hamilton County, TX
Civil War Service: Company F, 20th Texas Cavalry, Bass' Regiment, CSA
Enlisted: March 10, 1862
Captured: Honey Springs, Creek Nation, Arkansas, July 17, 1863
Prisoner-of-War Camps: 1) Fort Blunt, Indian Territory, Cherokee Nation (August 1863), 2) Gratiot Street Military Prison, St. Loius, MO (October, 1863), and 3) Camp Morton, Indianapolis, IN. (November, 1863) Initially refused to take oath of allegiance. Finally took oath on May 22, 1865 and was released from Camp Morton to return to Texas.
Accused of murder of his stepmother, Mary Myers Hester (Feb. 21,1877):
7-13-1877 To jail, no bail
6-27-1878 Trial, found guilty
6-28-1878 Sentenced to be hung
7-26-1879 Sentenced to life in prison - hard labor at State Penitentiary
11-25-1880 Found not guilty and released.
Family Portrait (about 1892):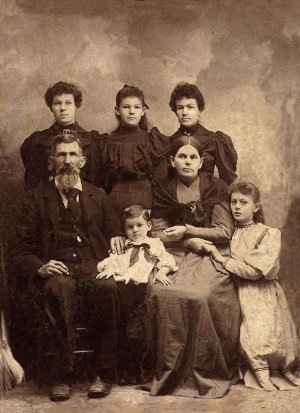 Dora, Allie, and Lillie
Thomas J. Myers, Johnnie Whidden, Jane Ann Myers, and Myrte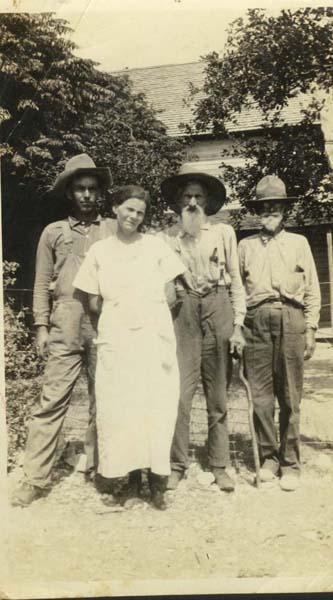 Picture of Sherman Johnson, Allie Johnson, Tom Myers, and Bill Newton:
Descendents of Thomas Jefferson Myers
1. Patsy Louis Myers (b October 13, 1860 and d March 2, 1921)
married William Ray Jacob Newton on September 20, 1974
William H. Newton (1877 - 19220
Clarence C.C. Newton (1879 - 1944)
Jervy J.J. Newton (1881 - 1962)
Nira N.N. Newton (1883 - 1964)
Zora Z.Z. Newton (1886 - ?)
Esto E.E. Newton (1889 - 1957)
Ozro O.O. Newton (1891 - 1961)
Isaac I.I. Newton (1895 - 1975)
Louisa E. Newton (1897 - 1951)
Kelton K.K. Newton (1902 - 1989)
Tom Locklear's mother describes their house as having two stories with a spinning wheel upstairs. She remembers the Newtons as being fond of singing.
Picture of Patsy and Bill Newton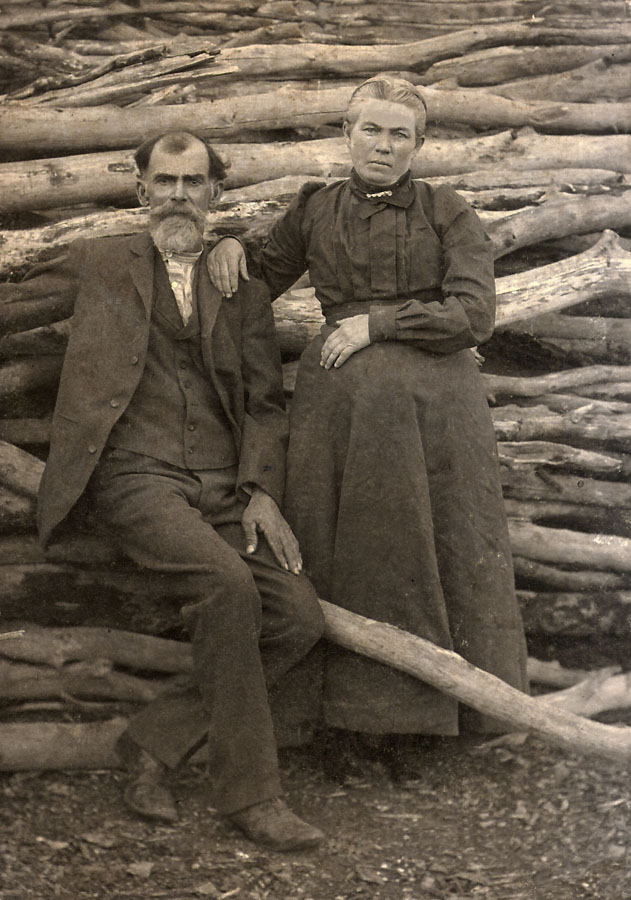 2. Sarah J. Myers (born November 28, 1862 and died ?)
married Albert Balenger
Picture of Unknown Sister (tentatively identified as Sarah and Albert Balenger):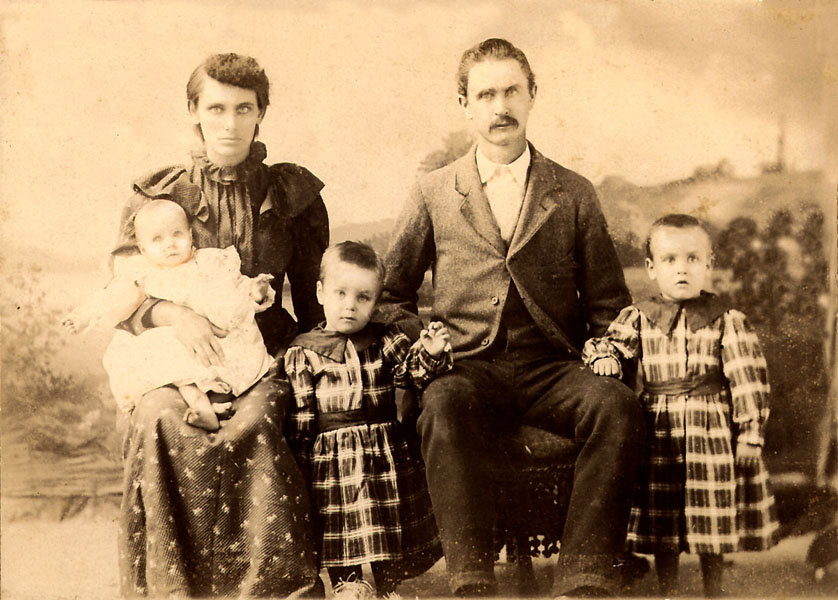 3. Malisa Florence (Florie) Myers (born September 9, 1866 and died Arpil 2, 1896)
married Henry Curtis Clemmer (1855 - 1927) on July 28, 1883
Vernon Arthur Clemmer (1884 - 1908)
Elbert Curtis Clemmer (1889 - 1968)
Thomas Earl Clemmer (1890 - 1972)
Alice Louisa Clemmer (1892 - 1982)
Lela Dell Clemmer
Picture of Family of Florie Myers Clemmer:
Elbert, Henry Clemmer, Arthur, Lela Dell, Florie Clemmer, and Earl Clemmer
4. Henrietta Myers (born October 2, 1868 and died August 1895)
married Joseph John Wheeler (died 1927)
Wedding Picture of Henrietta and Joseph Wheeler: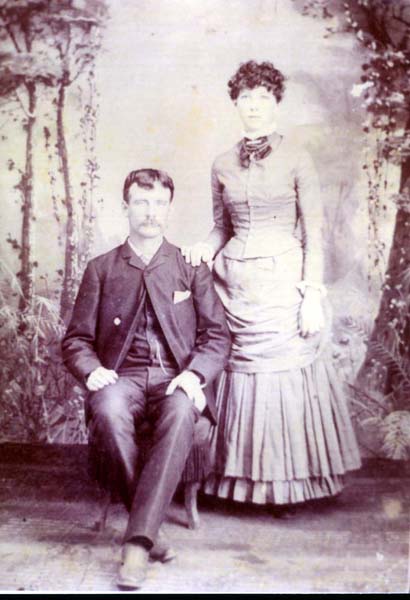 died in childbirth in 1895 as a result of moving heavy object
Loma (1884 - 1888)
Infant son (died at two weeks of age)
Verna Wheeler (1891 - 1980)
Vera Wheeler (1894 - 1986)
were raised by their grandparents after mother's death
Tom Locklear's mother is the oldest of the three daughters of Clayton Samuel "Shorty" and Vera "Bobbie" Wheeler Horton. The three sisters were called Fustie, Mutt, and Doodie.
Picture of Verna and Vera Wheeler:
Picture of Verna and Vera Wheeler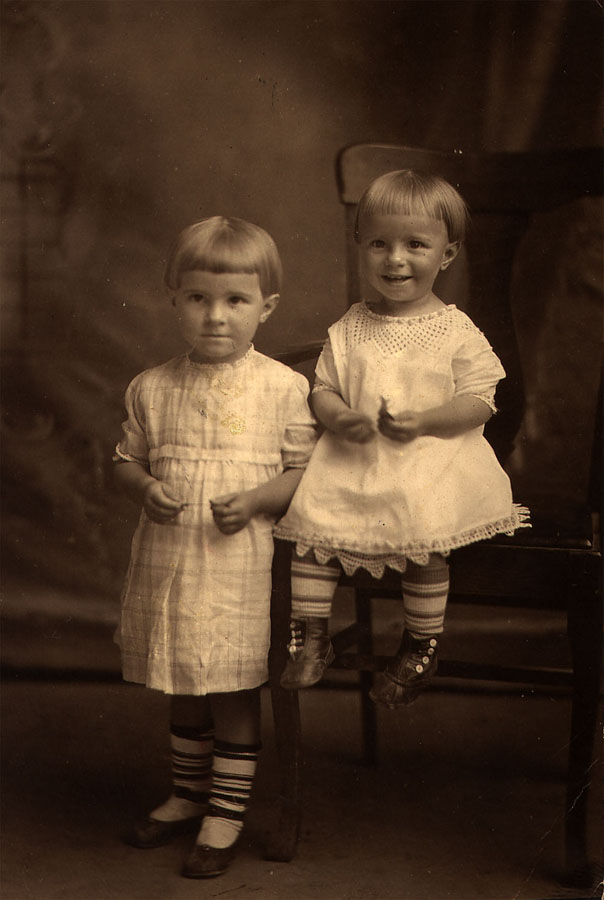 5. Milly Bell Myers (born October 5, 1870 and died May 18, 1909)
married Dudley Balentine (1859 - 1942) on July 4, 1891
Willis Lee Otis Balentine (1892 - 1898)
Josephy Wayne Claxton Balentine
Uneva Jewell Balentine (1897 - 1929)
Loil Alton Balentine
Alta Winnell Balentine
James Truman Coy Balentine (1902 - 1979)
Picture of Millie Balentine, Otis, and Loyal:
6. Rebecca H. Myers (born October 31, 1872 and died October 2, 1900)
married J. C. Widden on January 19, 1889
John H. Widden (1890 - ?)
Married John J. McGee
Michael E. McGee (1894 - ?)
Agnes A. McGee (1896 - ?)
Orva P. McGee (1899 - ?)
Picture of Rebecca Myers McGee and Family:
Allie Myers
John McGee, Fred, Bob, Rebecca McGee
Emmit, Johnnie Widden, Mike (child of John and Rebecca McGee)
Johnnie Widden (child of Rebecca and J.C. Widden)
Emmit, Fred, and Bob (children of John McGee and 1st wife)
7. Dora Myers (born March 26, 1875)
married E. G. Walls
8. Lillie D. Myers (born April 4, 1877 and died 1951)
married unknown Roark
married J. W. Lowder
married C.H. Williams on December 21, 1895
married Otis Burford
Died due to ptomaine poisoning from having eaten homemade ice cream made in a tin bucket at approximately 18.
Picture of Tessie as an infant:
According to Tom Locklear's mother, Aunt Lillie was living with Verna Wheeler Hiller in Godlwaithe when she died. Tom remembers that she was heavyset with beautiful silver white hair. He remembers her as being a very sweet person.
9. Emma Myers (born February 21, 1879 and died in 1891)
10. Allie Mae Myers (born April 2, 1881 and died February 23, 1958)
married Eugene Johnson (1875 - 1925)
Sherman Terry Johnson (1898 - 1963)
Quitney William Johnson (1901 - 1968)
Grace Bell Johnson (1903 - 1978)
Doyle Allie Johnson (1905 - 1932)
Patsy Myrtle Johnson (1908 - )
Hallie Wanda Johnson (1910 - 1984)
Neva Catherine Johnson (1913 - 1995)
J. L. Johnson (1916 - 1922)
Tom Locklear's mother describes the family as very fun-loving and outgoing. She described Aunt Allie as a kind person with a dark complexion and dark hair. The family loved to play dominoes. She describes Aunt Allie as "quite a snuff dipper."
Picture of Grace, Neva, Allie, and Patsy Johnson: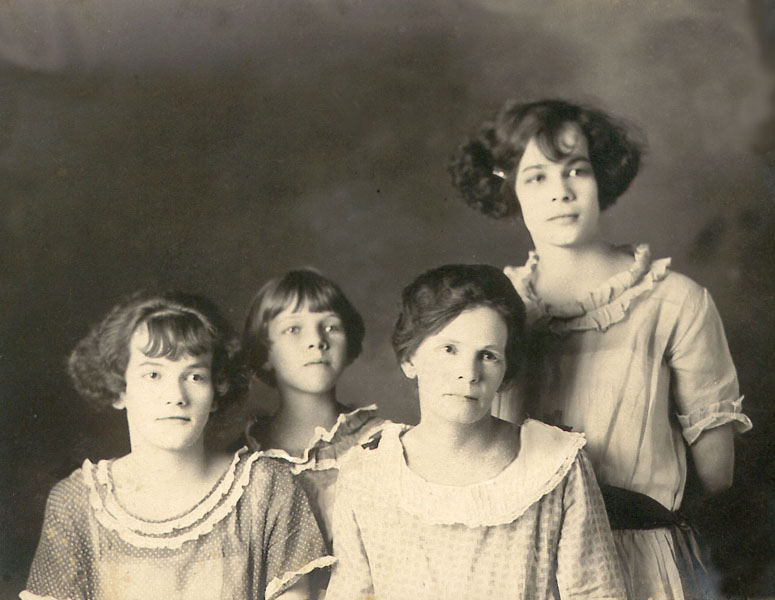 Picture of Eugene and Allie Johnson, Sherman and Quitney:
Daddy, Mama, Sherman, and Quitney
Picture of J.L. Johnson: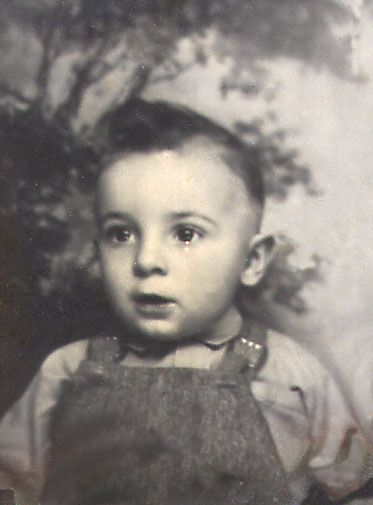 Picture of Eugene Johnson: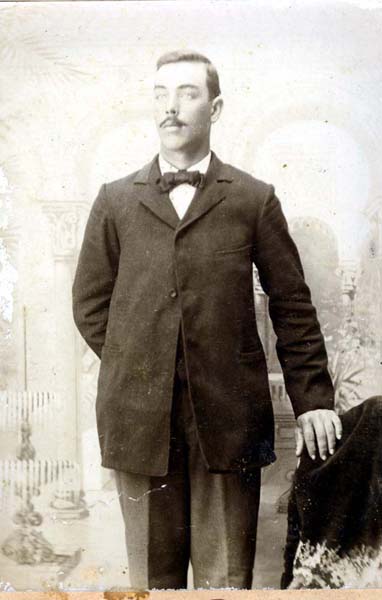 Picture of Grace Bell Johnson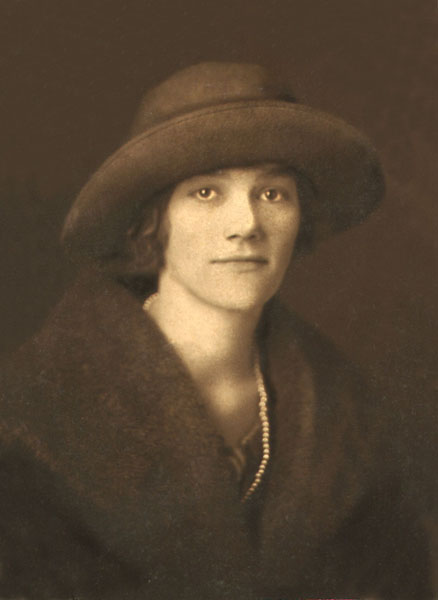 Picture of Virginia, Daughter of Patsy Johnson Hawkins: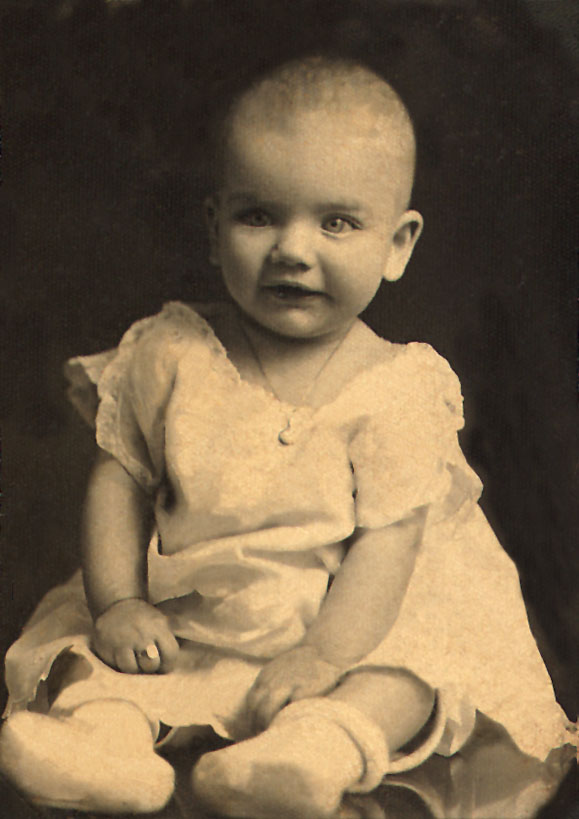 Picture of Quitney and Sherman Johnson
Picture of Allie and Patsy Johnson (taken in Temple, TX):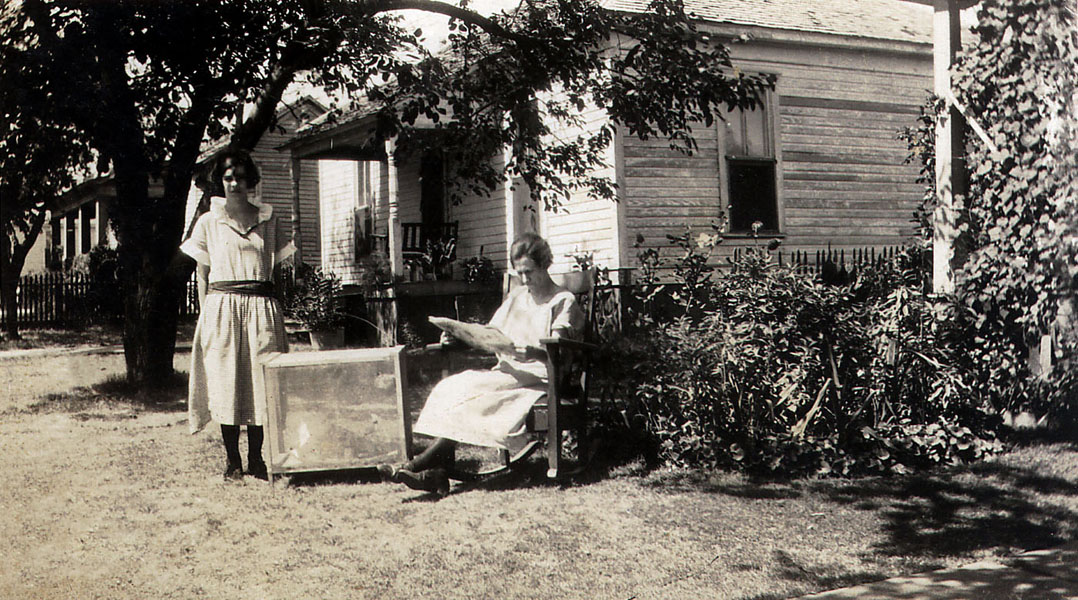 Picture of Home of Allie and Eugene Johnson in McGirk, TX: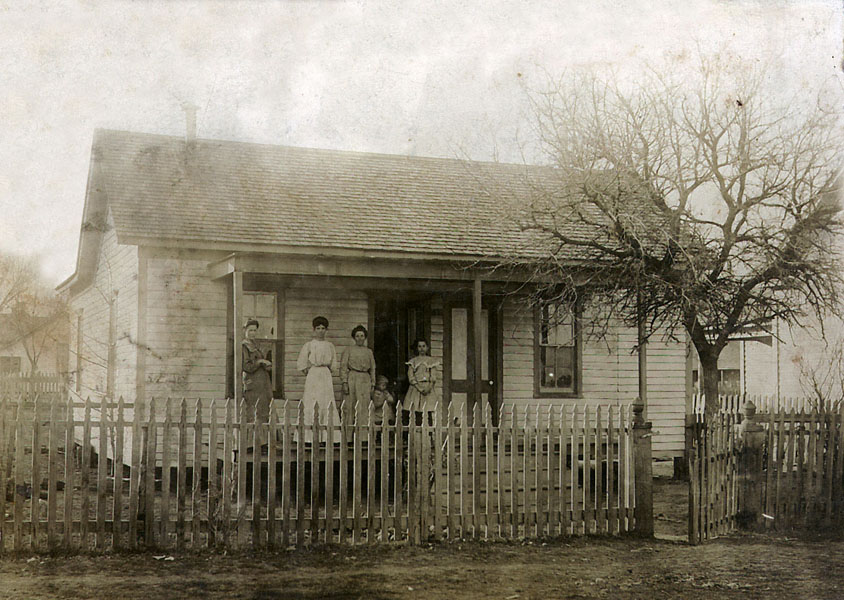 Picture of Virginia and Rex Hawkins, children of Patsy Johnson Hawkins: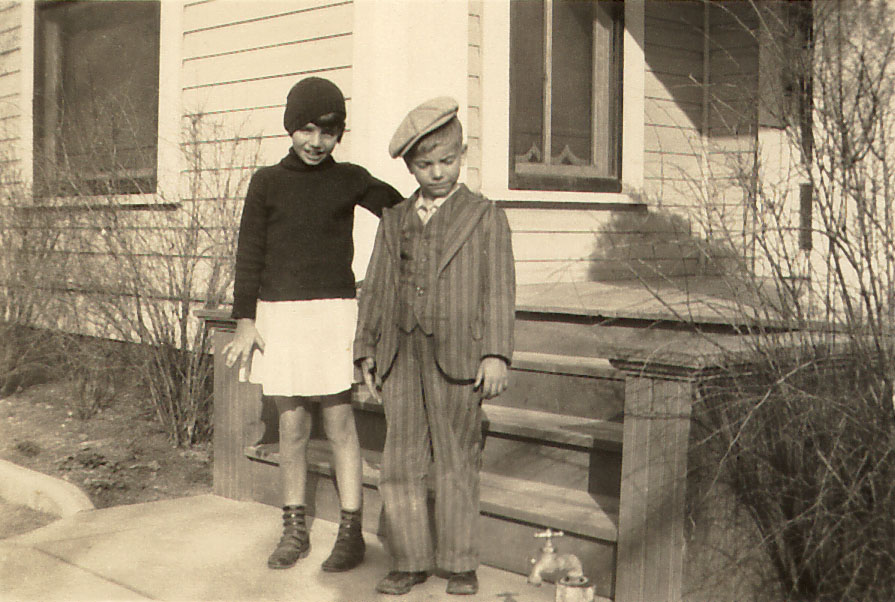 Picture of J.L. Johnson and Neva Johnson: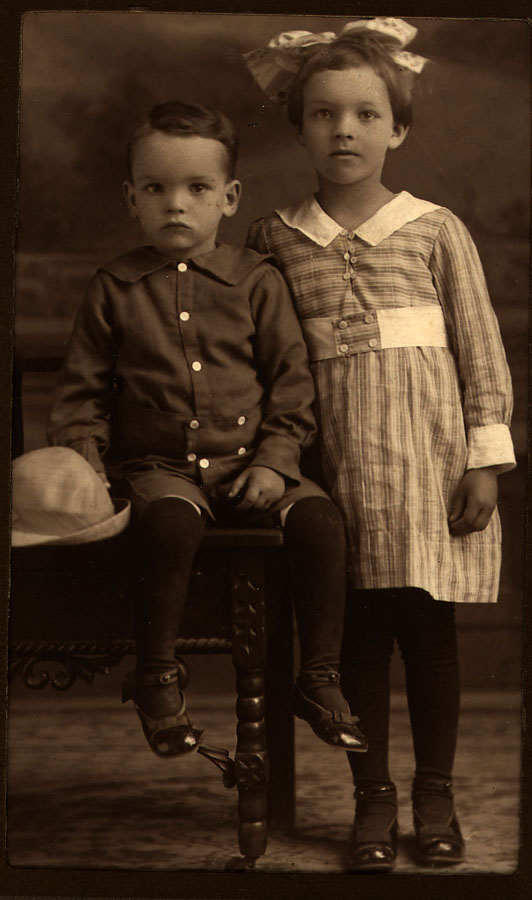 Picture of Sherman, Wanda, Patsy, Doyle, Grace, and Allie Johnson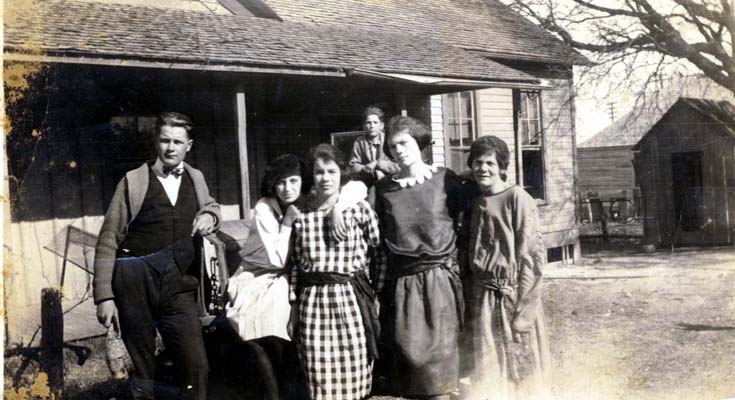 Picture of Adult Johnson Children: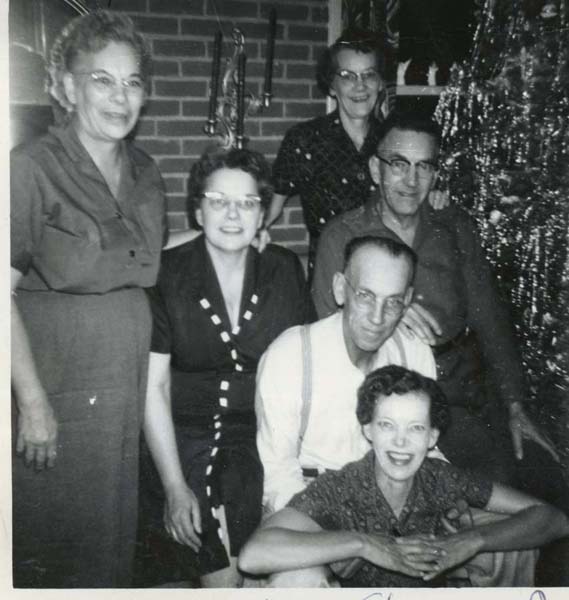 Patsy, Wanda,
Grace, Sherman, Quitney, and Neva
11. Alonzo Myers (born May 3, 1883 and died about 1885)
died before the age of two
Picture of Lonnie Myers: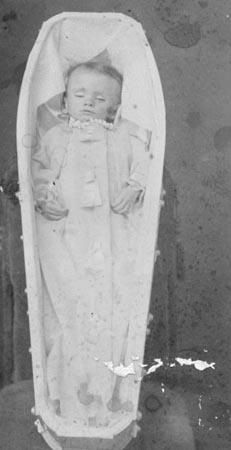 12. Myrtle Myers (born April 3,1895 and died July 1933)
married Claude Vinther
She and her husband died in an automobile accident in California.
Preston Vinther (1908 - ?)
Eva Eda Vinther (1909 - ?)
Hans Vinther (1912 - ?)
Picture of Jane Ann Myers and her daughter, Myrtle

Picture of Eva and Preston Vinther:
Children of Aunt Myrtle (probably before 1912)